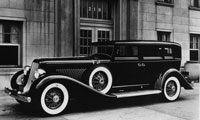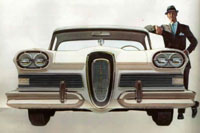 The Classic Car Database is the PREMIER WEBSITE FOR AUTOMOBILE SPECIFICATIONS. This is the most extensive database of specifications for American automobiles (antique, classic, vintage and muscle cars) manufactured between 1910 and 1975. This information includes wheelbase, engine, models, production numbers, VIN numbers and description, and many other specifications. We also cite the documents used, along with the associated research libraries.
We have a LISTING OF DEALERS SELLING CLASSIC CARS, PARTS AND SERVICES for foreign as well as American cars. There are also a list of AUTOMOBILE AND TRANSPORTATION MUSEUMS and CAR CLUBS around the US and Canada.
We have specs for all the postwar makes:
Buick, Cadillac, Chevy, Oldsmobile, Pontiac
br>
Ford, Edsel, Lincoln, Mercury
Chrysler, Dodge, Desoto, Plymouth
Studebaker, Packard, Hudson, Kaiser, Frazer, Nash, Willys, AMC, Rambler
Plus we have the pre-war makes like:
Auburn, Cord, Duesenberg
Apperson, Chalmers, Cunningham, Durant, Franklin, Graham
Hupmobile, Kissel, Locomobile, Marmon, Overland, Pierce Arrow
Peerless, Reo, Stearns, Stutz, Terraplane, and hundreds more – literally!
Originally, we sold this database on a CD called the Old Car Reference Library. We hope this website will make this vast amount of data more accessible to all automobile enthusiasts.
Our database is also used on other websites and applications. If you are interested in licensing the Classic Car Database, email us (info@classiccardatabase.com).
We are in the process of expanding the database to include more years and foreign as well as American automobiles. Please direct your comments or suggestions to info@classiccardatabase.com. We value your input.
Thank you for visiting The Classic Car Database.
Contact Information:

Classic Car Database
P.O. Box 4035
Parker, CO 80134